CHINO, CALIFORNIA (April 7, 2014) – Sungale, the consumer electronics brand, has been in the Internet TV Box arena for a number of years now, and it is ready to fight for its place at the top. There are a number of competitors including Roku, Apple TV, Chromecast and the brand new Amazon Fire TV which was just released last week. When looking at Amazon's hardware specs, they are pretty impressive, but Sungale's Smart TV Box is right on par. It's the classic David vs. Goliath battle, with the large company bringing a product to market, but little David is ready to go head-to-head with a direct comparison and tackle the giant Amazon and its newly released Fire TV Box.
When looking at the operating system powering the two units, Amazon's Fire TV box and Sungale's Smart TV Box both are running a version of Android's Operating System. There is however a big difference between two units. Fire TV only receives its apps from Amazon's Android Market where as Sungale's Smart TV Box receives its apps from the Google Play store. Amazon has also put limits on what apps are available for the Fire TV with its total app count at only around 177, whereas Sungale's Smart TV Box gives you the entire access of the Google Play Store at your disposal. The limited selections of Fire TV include 133 games, 25 entertainment, 5 music apps, and scattered categories of finance, sports, news, cooking, health, kids and photography. When comparing Fire TV's limits to Smart TV Box's Google Play Store access with thousands of availabilities, there isn't much thought required as to what box gives you the best app choices.
Sungale's Smart TV Box also offers consumers an experience they can't get from any other box. It literally allows you to attach a computer to your TV, but in a much smaller package. The one Media app that really puts Sungale's Smart TV Box ahead of the curve is by offering XBMC Media center. This is one app that Amazon's Fire TV really lacks that the Smart TV Box has built-in. "In my opinion, XBMC is by far the best way to stream online internet Television and it is absolutely free. Sungale's Smart TV Box is definitely the best way to bring this program to your living room's Big screen TV," said Peter Gu Sales and Marketing Executive at Sungale.
"Amazon's Fire TV is pretty good when directly comparing it to Roku, Apple TV or Chromecast due to the limits those boxes currently have. However, when you directly compare Amazon's Fire TV with Sungale's Smart TV Box, you won't find the app store to be limited like Amazon has done. Sungale's Smart TV Box gives you access to the entire Google Play Store," said Brandon Jacobson, Sales and Marketing Executive at Sungale.
There are a lot of impressive specs on Amazon's Fire TV, and one thing they really seem to be touting is their voice command search feature with their remote control. Although this is a great feature on paper, what Amazon doesn't tell you is that it is limited to only Amazon compatible content. This means that all the third party apps such as Netflix or Hulu Plus won't be present in the search results. Another feature Amazon is pushing is the separate game controller, which retails for $39.99. The remote control that comes with Sungale's Smart TV Box comes out of the box and ready to play almost every game available. It also makes it easy to connect additional after market controllers through USB or Bluetooth.
Although Amazon's Fire TV is trying to push its way to the top, it doesn't quite make it. Roku and Apple TV offer more entertainment content other than gaming and Chromecast has the best price, but neither of them comes close to the Smart TV Box by Sungale. Below is a comparison chart showing where each company's Multimedia Internet Streaming Box comes in regarding their features, specs and functions.
Sungale has many years being a premier manufacture of consumer electronics with production facilities in Shenzhen, China and as a leading OEM supplier of digital photo frames and other digital products. Sungale's devotion to cutting-edge technology along with a regulated quality control system produces a superior product line with durability and applicability in mind. Recent additions to Sungale's product lines include: Netchef, 3G Tablets, Bluetooth speakers, Bluetooth headphones, children hearing safe headphones, and portable power banks.
Comparison: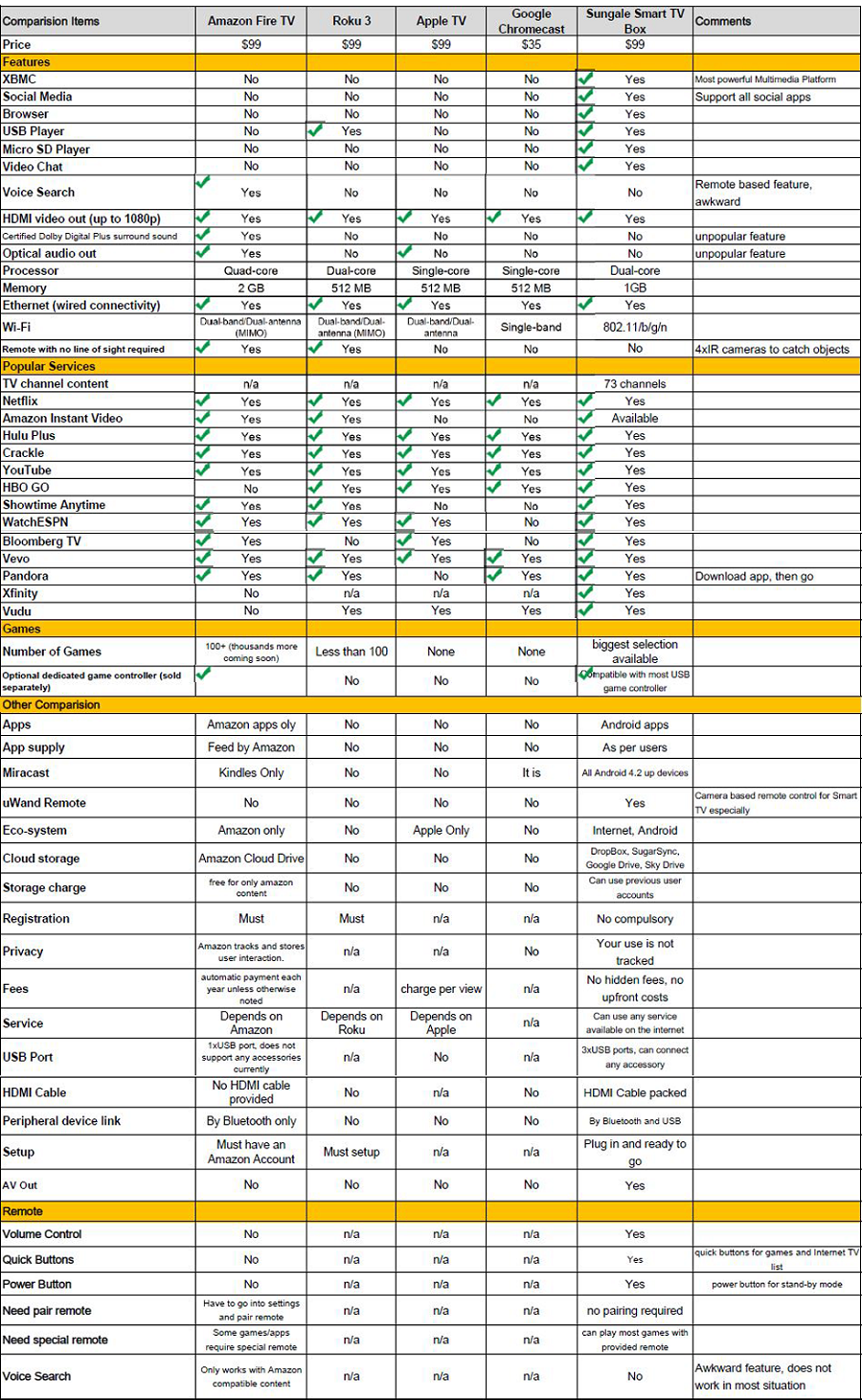 Media Contact:
Brandon Jacobson
Sungale
Brandon@sungale.com
909-902-1807 ext. 115
Please follow and like us: