Sungale Cloud Digital Frame is the most convenient versatile way to display and share photos. In the 2022 holiday season, we released the newest 19 inch cloud frame model CPF1907 with the same great cloud photo sharing features and many exciting updates!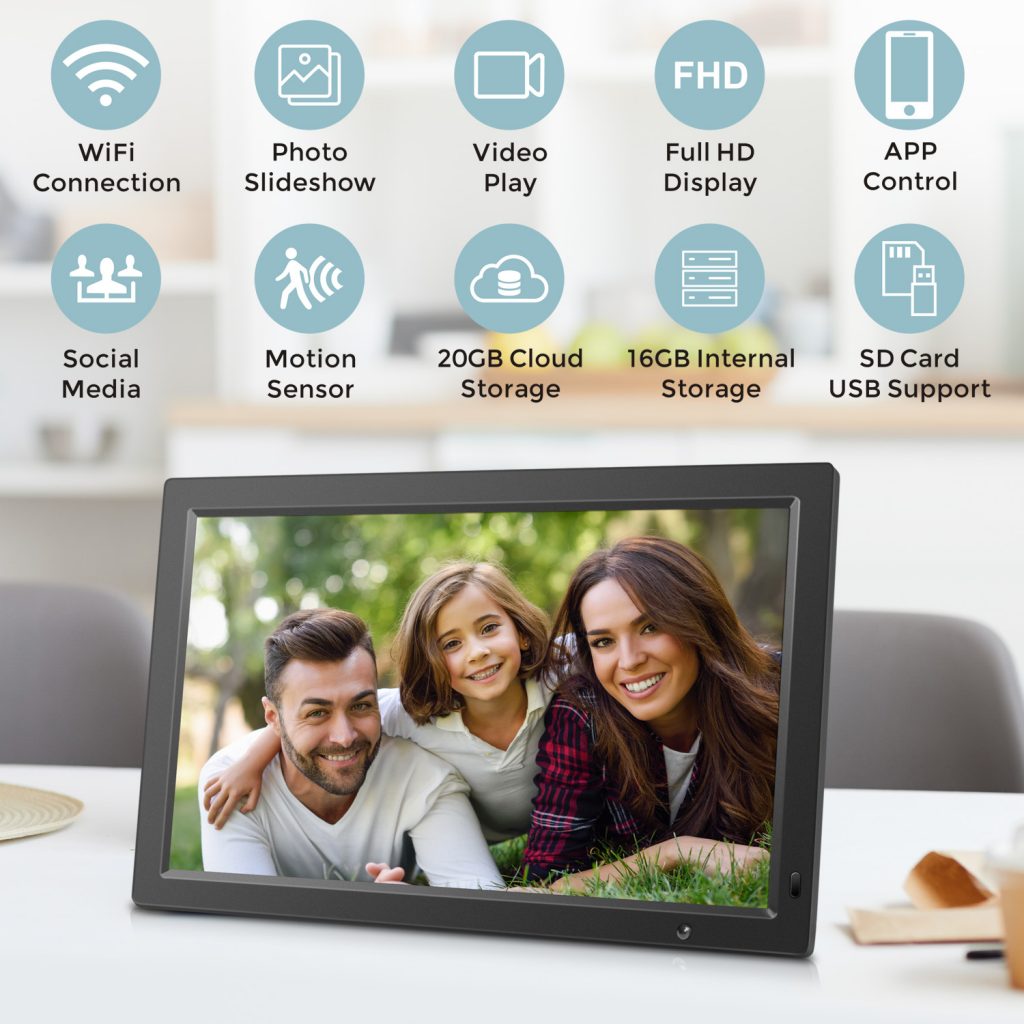 Sungale cloud frame is known as the best way to remotely share photos with family & friends, especially with parents and grandparents. Using the 'Sungale Cloud' free app (available for iOS and Android), or the Sungale Cloud Web Portal (https://cloud.sungale.com), you can easily send photos to your parents or grandparents cloud frames anywhere, anytime. You can also invite friends and family to connect to your cloud frame, or connect and send to their cloud frames. Snap a photo on your phone or select photos from your computer, select whose frames you want to send them to, it's that easy to share your best moments with your loved ones. If you'd prefer to use it like a traditional plug and play digital photo frame, it's an option too, simply plug in an SD card, and choose "Local Photo" on your frame to start a slideshow.
The CPF1907 is built with a high definition full angle digital screen, so your photos are displayed vividly and clearly from any angle. Using the Sungale cloud app, you can adjust your photo slide show style to best fit your needs, such as slide show speed, photo transition style, in sequence or random order, turn on/off zoom in effect, and display with time & weather panel.
The large screen comes with a remote control, and the elegant slim design makes the CPF1907 fit well with any surroundings. It looks nice sitting on a tabletop, or hanging on a wall (wall hanging kit included).
It not only has a better screen, but there are many other exciting improvements. A smart motion sensor is built-in the frame to make energy saving easy, when the PIR sensor setting is turned on, you can control how long to keep the frame active. When no one is around, the frame screen will go to sleep to conserve energy, and easily wakes up when any motion is detected in front of the screen.  If you prefer to have the frame only run at certain times of the day, you can do so with the sleep schedule setting, simply turn on the feature, and set the time you'd like to turn off and turn on the frame. Remember to turn off the PIR setting if you want to use this sleep schedule feature, so the frame won't accidentally wake up with someone passing by.
The CPF1907 is equipped with a fast quad core CPU and larger memory, which makes the cloud photo downloading faster and smoother. It also supports many other APPs from the play store, so feel free to download your other favorite APPs.
The CPF1907 also comes with a better package design, the screen is well cushioned and parts are securely secured in place, which makes it an ideal gift for the holiday season and many other occasions.
Please follow and like us: