Sungale's CPF708 7″ Cloud Frame became recognized as the best WiFi Digital Photo Frame available when it received the Gold Award winner in 2016 by TopTenReviews. With an overall score of 8.88, the CPF708 received high marks in 4 key areas including Display, User Experience, Versatility and Help & Support. When 2017 came around, we clinched the title again with the best overall rating.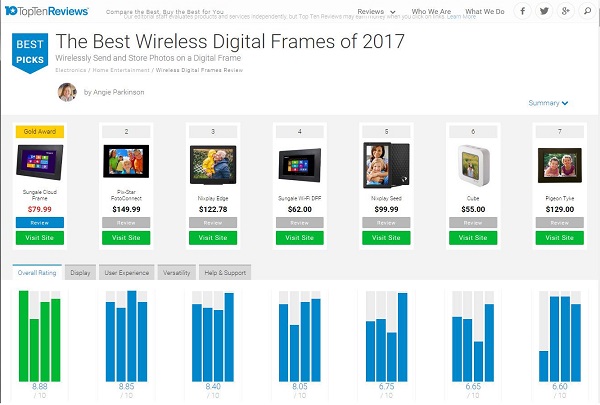 Sungale now has received the gold award title for being the best frame available for 2 years running, and with the evolution of the product category, Sungale remains committed to offering an outstanding product.
"It deserves us to mention is that TopTenReviews is one of the most reputable reviewing sites online, where no one can control and operate the review result. We have noted that Nixplay, our main competitor, is at the No. 5 position in the ranking list although Nixplay is always occupying No. 1 at Amazon. No one is able to give a negative review to a Nixplay frame because it is protected well." Debbie Zhang, COO at Sungale, said.
A sign of Sungale's commitment is the introduction of the CPF1051, a 10″ IPS Display cloud frame, with outstanding clarity and detail.
You can read more on Sungale's review here at TopTenReviews: http://www.toptenreviews.com/electronics/home-entertainment/best-wireless-digital-frames/
Please follow and like us: