Innovation is coming to the Kitchen in 2018 – Smart Kitchen Display Product Release
CHINO, CALIFORNIA (September 27, 2018) – Sungale, the consumer electronics brand that is best known for its line of Cloud Frames and Digital Photo Frames is launching a brand new line of Smart Home products called the Kitchen Screen that has been in development for 3 years. This product is set to be available for purchase at the end of September of this year.
The Kitchen Screen is a product that connects your kitchen to the internet and provides services and features that makes life in the kitchen easier and more entertaining. The touchscreen operation has been designed for simple and intuitive navigation through the various options. The magnetic case is specially designed to attach the screen onto the refrigerator. When you're ready to update your kitchen, remember that the Smart Kitchen Screen brings you everything you could possibly want in the kitchen on a single 8" HD display.
Innovative Design for seamless use and easy installation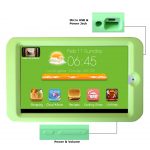 Magnetic Case for easy installation: Special consideration was taken to evaluate the kitchen environment and a magnetic design was chosen. Three powerful magnets are embedded within the special rubber silicon case, 

so that the Kitchen Screen can mount directly to the Surface of your refrigerator or any metal surface. This innovative design offers easy access, takes up minimal space and offers protection from damage. Also included is 

a power cable and 2 magnets for a simple install that wraps around the side of the refrigerator for a clean look to provide power to the screen.
2. Hi-Tech Capabilities in your Kitchen: The Kitchen Screen brings IT, Internet Access, Cloud Tech and Entertainment options to the kitchen, and they have been specifically tailored towards kitchen use. Some of these features include Online Grocery Shopping, Top Recipes and Recipe Websites, and special Kitchen Tools.
3. Google and Apple companion APP: The Kitchen Screen also has an available APP on Apple's APP Store and Google's Play Store for managing your personal Cloud Storage and Cloud Photo Albums that can be played on the screen.
4. The Cloud Storage is a unique feature provided by Sungale freely and you can use it to store your photos and personal documents. Also, you can compile your cloud album to have photos displayed on the screen, as well as having your family members and friends share their photos to your cloud album remotely.
"We've been working on the Kitchen Screen over the last 3 years making sure everything to make life in the kitchen easier is available," Said Brandon Jacobson, Marketing and Sales manager of Sungale. "We are particularly excited about the case, which allows any refrigerator to instantly have a Connected Smart Display attached to it. This innovation will give customers the option of having smart refrigerator capabilities at a fraction of the cost," Brandon added.
Sungale has seen the growth of Smart Home products and sees the kitchen as the next key area for new innovation and product success. "The Smart Home market is still at its most early stage, but it is growing extremely fast. There are a lot of companies releasing new products for the home that connect to people's phones and devices for making life easier, but there are few products that address the issues found in the kitchen. Having a product that makes daily routines easier, frees up our time and provides a fun experience is important, but there was nothing on the market that addressed this for kitchen use," Mr. Sun, CEO of Sungale explained. "We saw an opportunity to innovate with the Kitchen Screen and we expect it to do well in the market, especially since the kitchen is an important part of the home." According to a Market Research study by Technavio, the Smart Kitchen Segment is expected to grow more than 60% globally over the next few years. With such growth and the American market dominating the segment, there is a tremendous opportunity for the Kitchen Screen to make a strong impact.
The Kitchen Screen will come with an 8" high resolution IPS touch screen (1280×800), 8GB of internal storage, a powerful processor and have an MSRP of $129.99. It is now available at Sungales eStore at a special early bird retail price of $99.99. Following the first weeks special sale, Sungale will release the Kitchen screen to the rest of the market at its normal retail price. To purchase, please visit www.estore.sungale.com
About Sungale:
Sungale has many years of being a premier manufacture of consumer electronics with production facilities in Shenzhen, China and as a leading OEM supplier of digital photo frames and other digital products. Sungale has consistently strived for innovation putting Cloud Storage at the forefront of its most recent product releases. Sungale's devotion to cutting-edge technology along with regulated quality control systems produces a superior quality product that you can trust and that we stand behind.
Media Contact:
Brandon Jacobson
909-902-1807 ext. 115
#####
Please follow and like us: