Although considered an "Internet Radio", Sungale's KWS433+ is in a category of its own. While offering the same internet radio capabilities as others devices, Sungale's KWS433+ not only offers a significantly more number of features and functions, but it is also more user friendly and customizable as well. Once connected to a Wi-Fi network, you're off and running!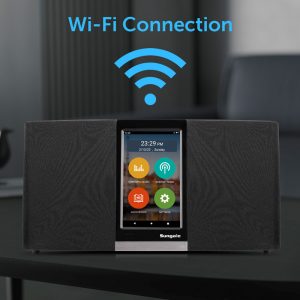 So what exactly does this radio have to offer? For starters, while you're only limited to a certain number of radio stations on other devices, Sungale's KWS433+ not only offers numerous internet radio apps readily available to enjoy, like "I Heart Radio" and "Tune In", but in addition, those who prefer listening to popular streaming music apps like "Spotify", "Pandora", and many others, can enjoy it as well! In addition, for those with paid subscriptions to any of these apps, they can be synced together with no additional fees. Newly added for this radio is Google Play, so if you do not see a preferred app shown in the radio's backup lists, you can still add and enjoy it on this radio.
Do you have your own library of music files you'd like to listen to? No problem! Sungale's KWS433+ has the capability and hardware for you to access and play own favorite music. Either use the included OTG USB cable to connect and access your external storage device or use a micro SD to USB cable to connect the radio to a computer and have all your files transferred to its 32GB of internal storage.
With great software, comes convenient hardware. On top of all the apps and features Sungale's KWS433+ has to offer, it has small but powerful stereo speakers and a subwoofer that pack a punch when it comes to sound quality. Enjoy listening to your favorite streaming music, radio station, or music file throughout your home, office, or other abode, with clear crisp sound. In between them is a bright responsive touch screen for you to navigate and make your selections accordingly. Use the included stylus pen to make your selections more precise. For added convenience, at the top of the radio  are command and function buttons to power it on and off, adjust volume out, and utilize some voice commands.
Instead of being tethered down to an area close to a wall outlet to enjoy your listening experience, you can move about throughout your home of office! Sungale's KWS433+ has a 2000mAh battery built into it so you can continue listening, while taking it with you to have close by. Just make sure you stay within your Wi-Fi coverage. Enjoy several hours of portable listening without interruptions!
When you're done for the day and you have your KWS433+ plugged in and charging at your bedside, take advantage of the radio's alarm feature so you can make sure you're up on time to get the day started. It will be the last thing you see at night and the first thing you hear the following morning!
These are only some, but not all the advantages Sungale's KWS433+ has to offer. For a complete list of features, functions, and specifications, please click the button below.
Ready to pull the trigger and order yours now? Click the button below and order from our online store directly.
 When you take the limited internet radio capabilities that other devices have to offer and add more radio station options, streaming music services, an abundance of storage for your own personal music, convenient user friendly hardware, a built-in battery for portability, and more, there is no comparison. An for advantage Sungale's KWS433+ means an advantage for you!
Please follow and like us: