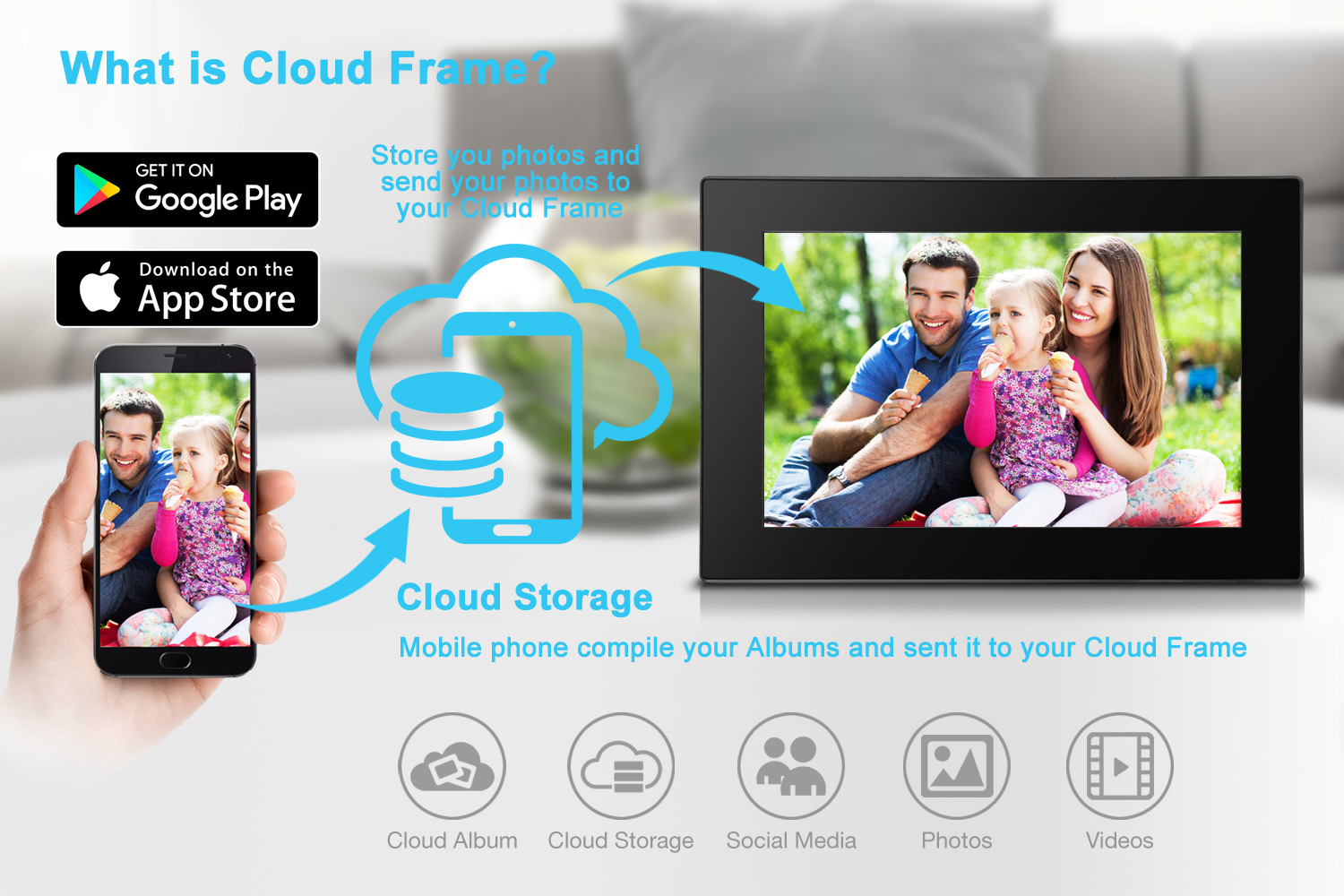 Why use a Digital Photo Frame?
Smartphone cameras are the most popular camera in the world, and every day the amount of memories we record with them grows. As a result, these memories are often shared once and then forgotten among the other millions of posts vying for attention on social media. Digital Photo Frames are the perfect way to preserve these memories while also sharing them with the people who matter most in your life.
What should I look for when buying a Digital Photo Frame?
So you've made the decision to purchase a digital photo frame, but the choice may not be as easy as you thought. Today, there are multiple options and features available in digital photo frames, and it may become more of a headache trying to understand and decide what's best for you.
Sungale understands Digital Photo Frames better than anyone, so we've put together a short Buying Guide on what to look for when making that important decision.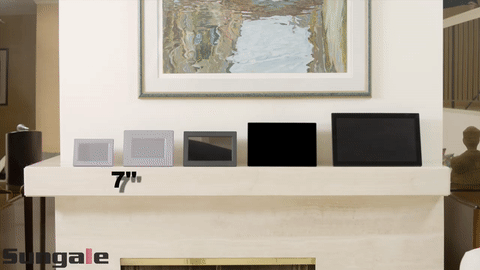 While you no longer have to buy a frame that physically matches your photo size, it's still important to keep in mind how much space it will take up, how far you'll be viewing from and how you want your screen to be oriented.
Tabletop vs Wall Mounted
Smaller screens ranging from 7 inches up to 10 inches are the perfect size for sitting on tables, nightstands or shelves where they don't take up too much space. These small and lightweight frames are typically very thin and can easily be moved around and relocated without much hassle. 
Frames larger than 10 inches are usually better suited for Wall Mounting. While they do come with stands if you do want to sit them on a tabletop or shelf, you will need to make sure there is adequate space in the area you want to place them.
Viewing Distance
This is pretty straight forward. If you will be in close proximity to where the frame is sitting such as a desk, then a smaller frame should be perfect for you. If you will be at a distance or unsure, go with a larger size for optimal viewing no matter where you are.
Orientation and Aspect Ratio
At the moment, a 4:3 aspect ratio is better suited to portrait oriented frames because it matches the standard photo. Many displays however are moving towards 16:9 aspect ratio, or "Widescreen" as it's commonly referred to, because it offers a better viewing experience closer to how a human eye sees naturally, and offers more impressive scenery and background. 
Loading standard 4:3 photos into Widescreen frames will result in black bars on the sides, however we still recommend Widescreen frames because they offer an overall better picture, and because widescreen an increasingly common format in general.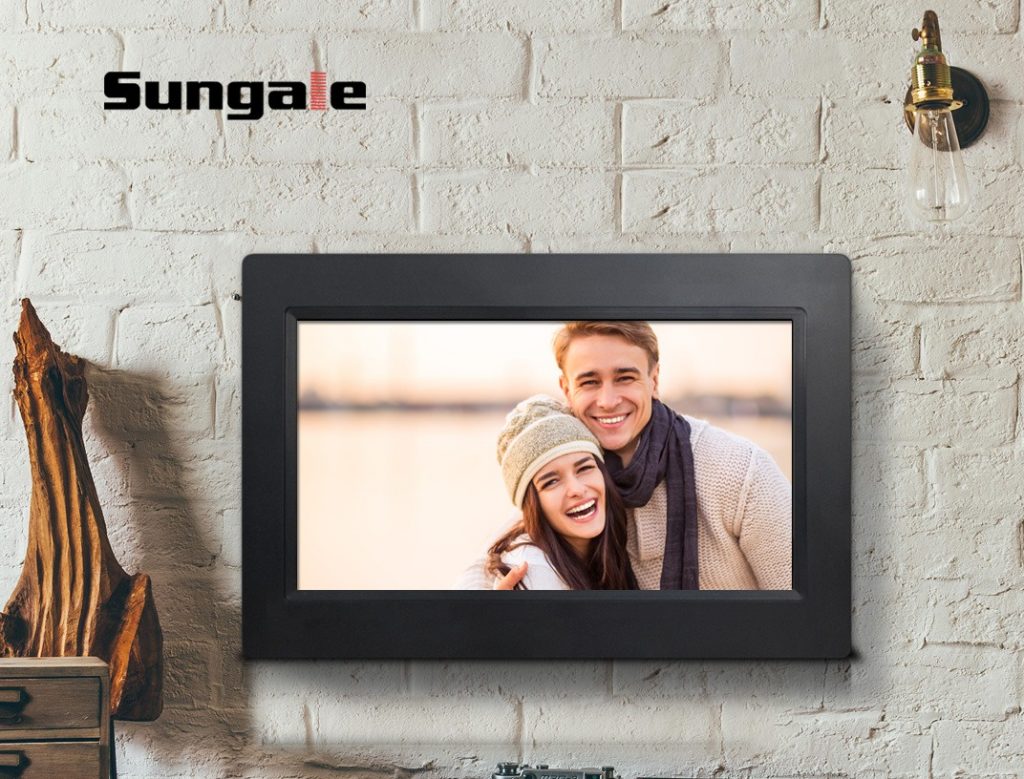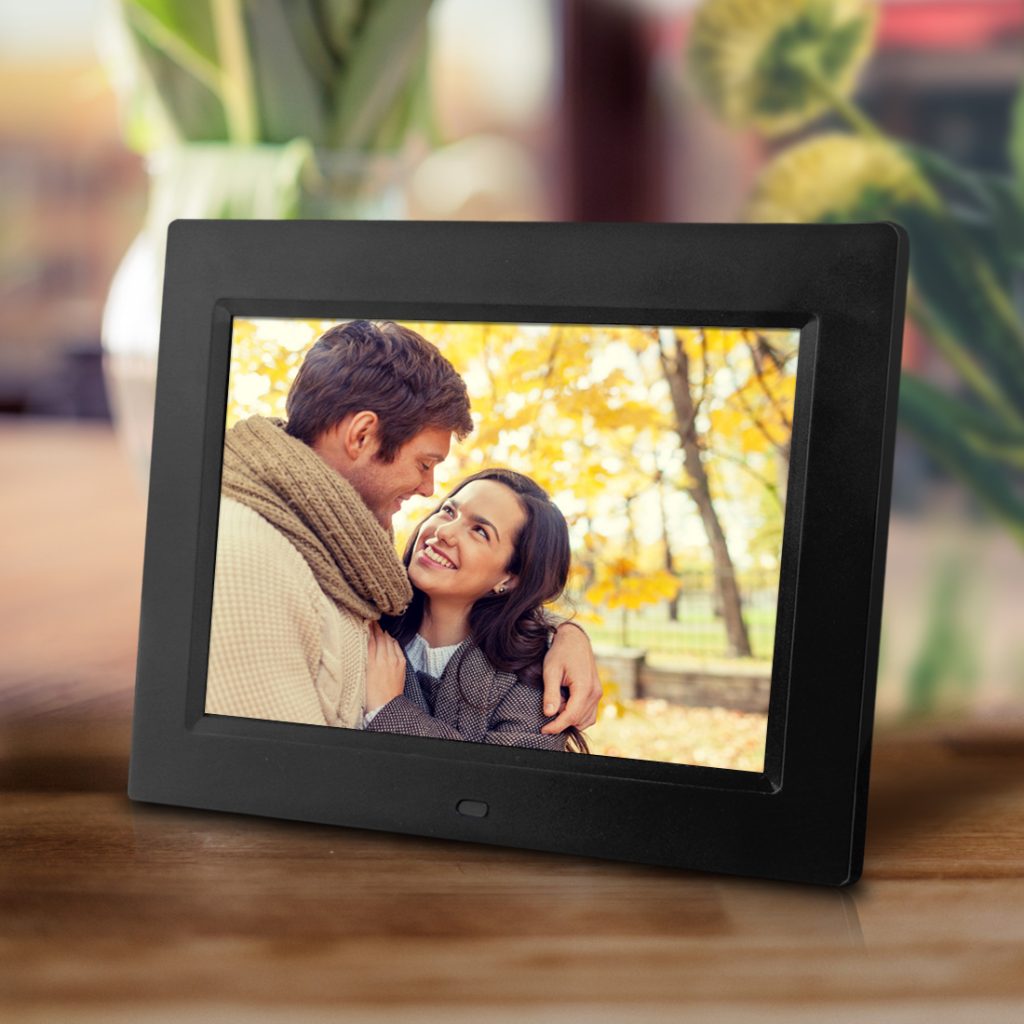 While size is an important first step in making your decision, if you really are not sure which to get, try starting your search with a 10 inch frame, since they don't take up too much space, and can still be fairly easily seen from a distance.
What's the right display for me?
That depends on multiple factors! The primary concerns are resolution and type of panel. 
Issues with Older Models
Displays from pre-2011 are typically made with older display signal standards, and will have some issues. The picture will be noticeably low resolution, and both picture formats and memory formats may have compatibility issues. Fortunately, this isn't really a problem anymore, but if you're buying a slightly older model or reusing a frame refurbished, you may want to check the manufacturing date or search the model number online.
Low Resolution vs High Resolution
A general rule of thumb is, the higher the resolution the sharper it will look. HD resolution starts at around 1024×600 and anything below will begin to look blurry or pixilated, though this is less noticeable on smaller screens. At 10 inches, 1024×600 will still offer a very clear HD picture, but anything above a 10 inch screen, we recommend at least 1366×768. On large displays, below 1366×768 isn't high enough to match the screen size so it will start to look blurry.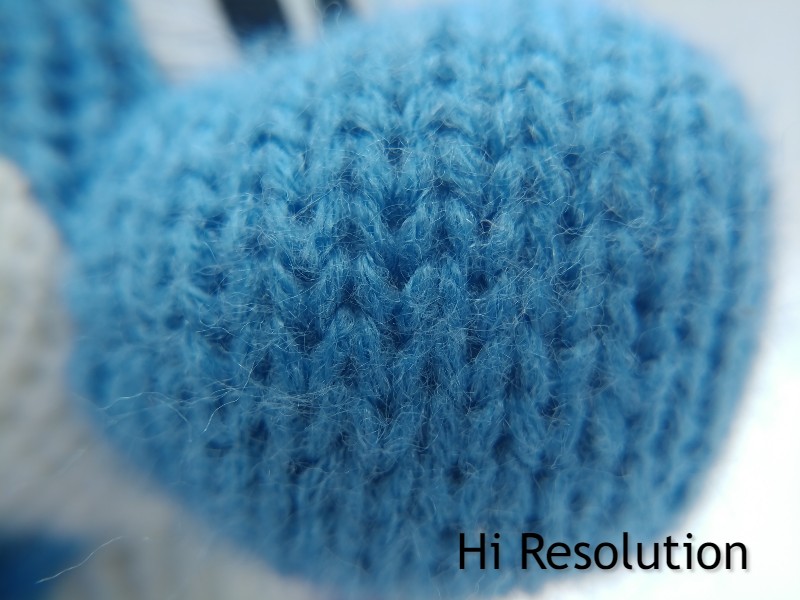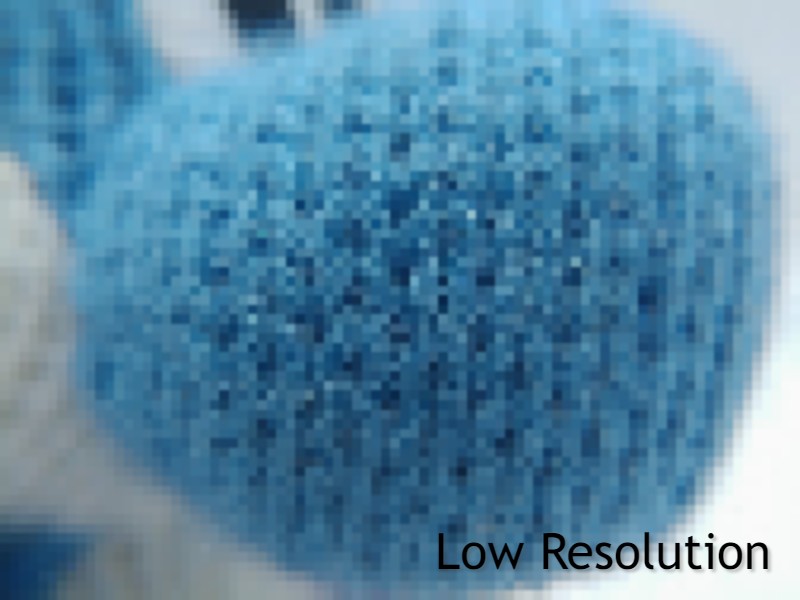 Panel Type
Finally, you have the type of panel. The two most common are TFT Panels and IPS Panels. TFT are inexpensive to produce, and so you can get a larger screen for less. They're still widely used as a budget option, but the viewing angles and color reproduction is somewhat poor by today's standards. IPS Panels however, have much better color accuracy in comparison, appear brighter and can display a clear picture from much wider angles. While IPS panels have also been around, they were prohibitively expensive to manufacture for quite awhile, but technology improved and we began producing IPS Digital Picture Frames since around 2014.


While both have value, overall we recommend IPS Panels for superior picture viewing quality. The color reproduction and viewing angles are easily noticeable and simply do a better job at displaying photos just like we remember them.
What kind of Digital Photo Frame is best for me?
Basic Frames
The best no frill economic solution to display your photos. They are the simplest to setup and least expensive.
Features/Option: Different sizes, easiest to use, basic slide show and transition controls.
Storage Capacity: No internal storage. Fits as many as the external storage can take. Accepts both SD Cards and USB flash drives.
User Friendliness: There is very little setup outside of plugging the frame in and inserting pictures through a USB Drive or SD Card. There normally aren't very many controls either; usually they're operated by built in buttons (although Sungale products can feature Remote Controls for larger frames) and the only things to set are slideshow settings and the time.
Price Range: $29.99 – $79.99 Depending on Size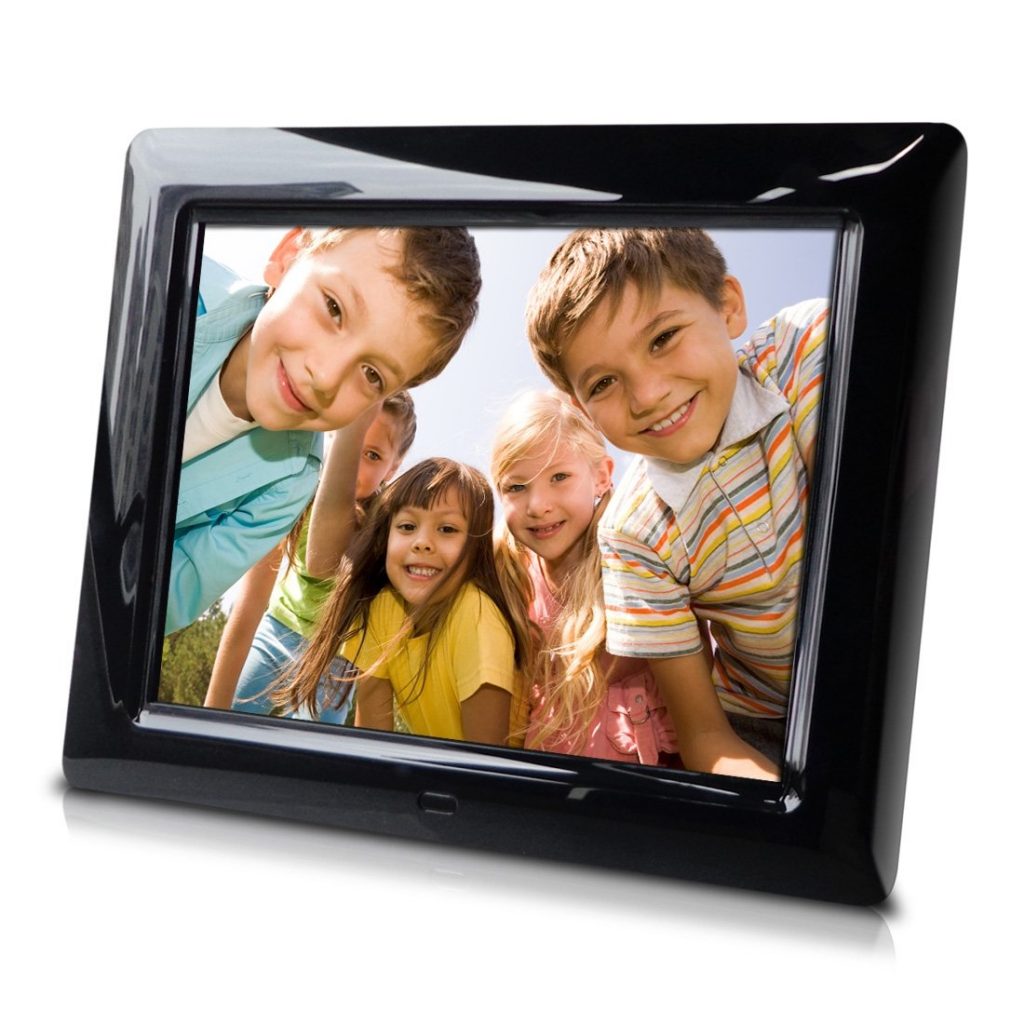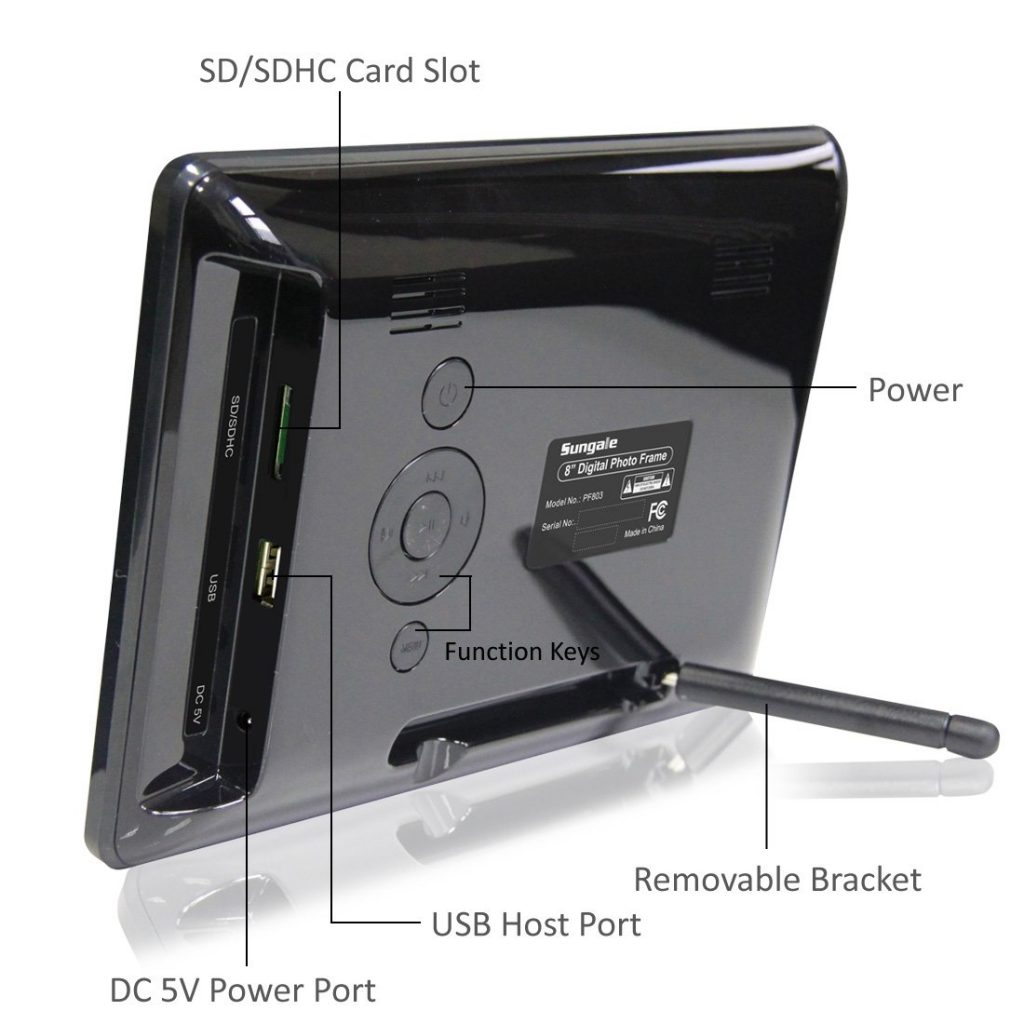 To see our lineup of Basic Frames, check out the E-Store Catalog.
Multimedia Frame
These offer more multimedia features and control over how photos are displayed, but are largely as simple as Basic Frames.
Features/Options: Can play music or videos with internal speakers in addition to displaying photos, calendar with photo display. PC connectivity to load pictures into internal memory.
Storage Capacity: They will usually contain on board storage (usually between 2 and 8 GB), but can also be expanded by external storage. Accepts both SD Cards and USB flash drives.
User Friendliness: Mostly like the basic frames. Photos are displayed by default on powerup from internal memory or external memory when plugged in. Movies and music can be launched easily from the main menu or from remote control.
Price Range: $36.99 – $119.99 Depending on Size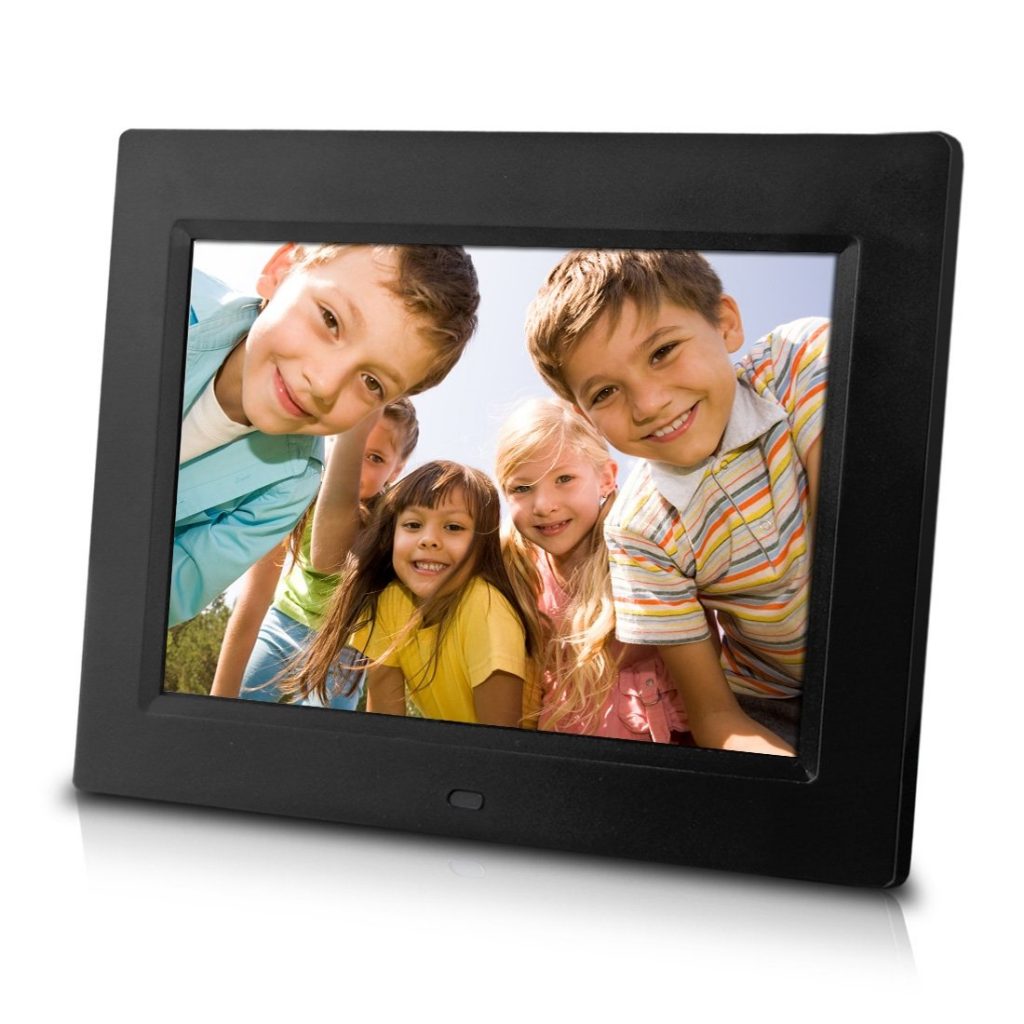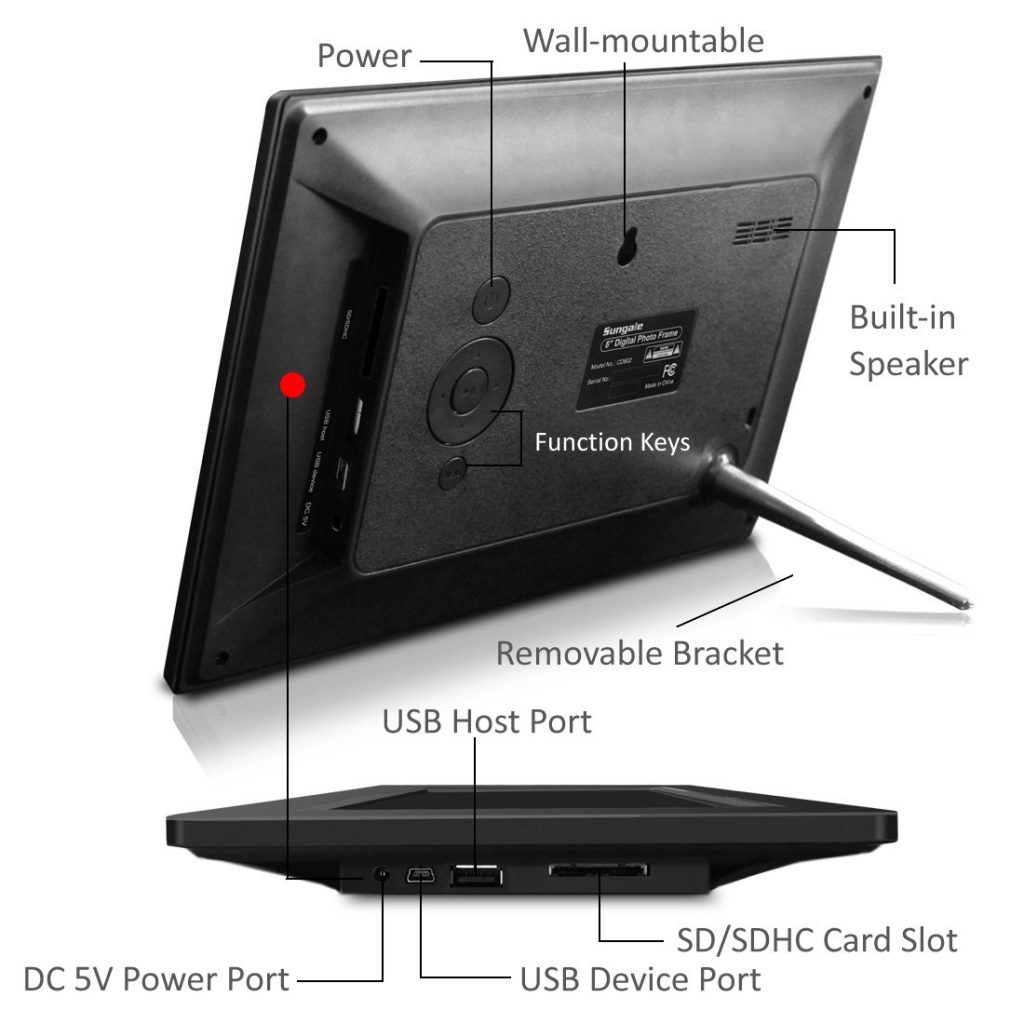 To see our lineup of Multimedia Frames, check out the Estore Catalog.
WiFi/Cloud Frame
WiFi and Cloud frames are the newest development in digital picture frames. In addition to the features of Multi-Media frames, these do not require you to physically plug devices into the frame to transfer photos, they can be connected to the internet and do this wirelessly from a smartphone or computer.
WiFi Frame: First Generation of the connected frame. They'll normally still keep photos within internal memory or expanded storage, but photos can be sent wirelessly through a computer or smartphone. These offered Android apps, but limited photo management capabilities and were phased out in favor of Cloud Frames.
Cloud Frame: The Cloud Frame is the newest category of digital frame and has brand new solutions to storage and safety problems emerging in modern times. Once connected to the internet, whole albums can be stored or safely backed up online instead of the phone or within the frame itself. Apps like NetFlix or Spotify can be installed as well for a full multimedia experience.
Features/Options:  Cloud Frames offer easy management with both iPhone and Android, infinitely expandable storage, can be connected with more than one user or even more than one frame at the same time. Safely backup your most precious memories off site in a Personal Cloud Album for on demand access and save space to keep taking pictures. Has access to Google Play app store for additional functions up to the user.  
Storage Capacity: Internal and External memory is available like others, but Cloud Frames also features 20 GB of free Online Storage as well as subscription plans for even more storage beyond that.
User Friendliness: Slightly more advanced setup, but easier management with smartphone app. Easy touch screen controls or motion controlled remote for larger sizes.
Price Range: $76.99 – $229.99 Depending on Size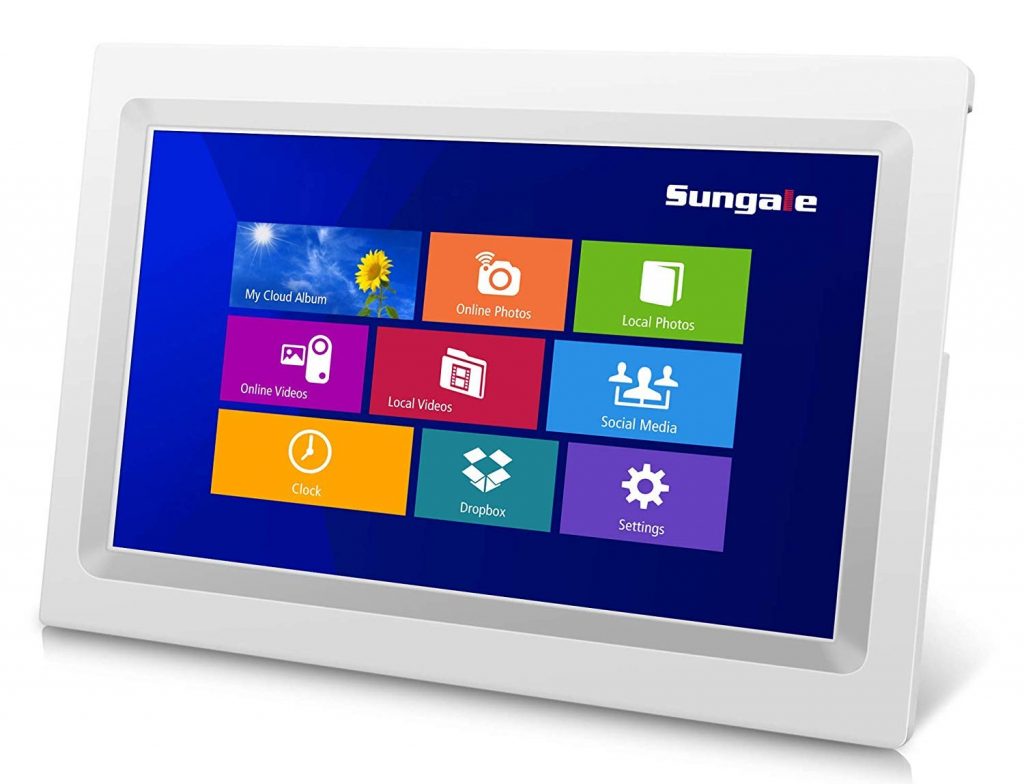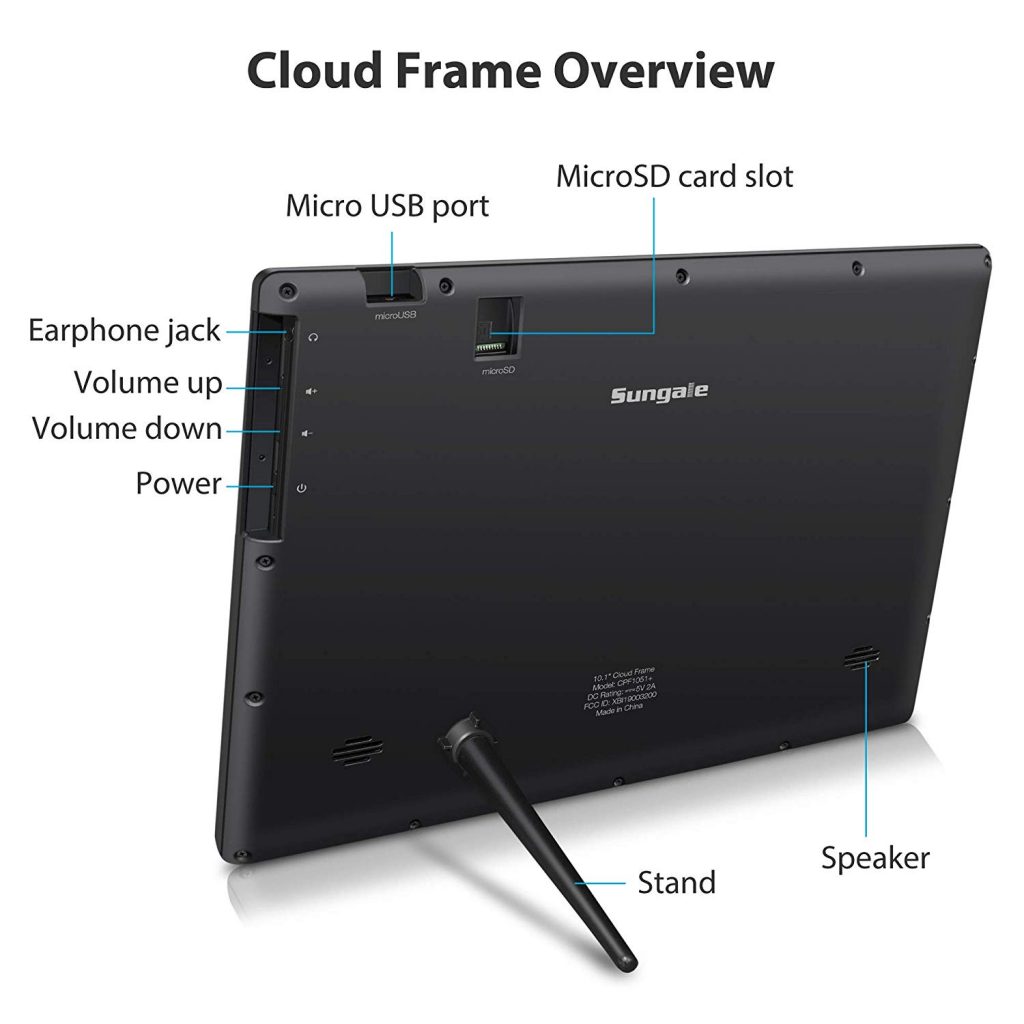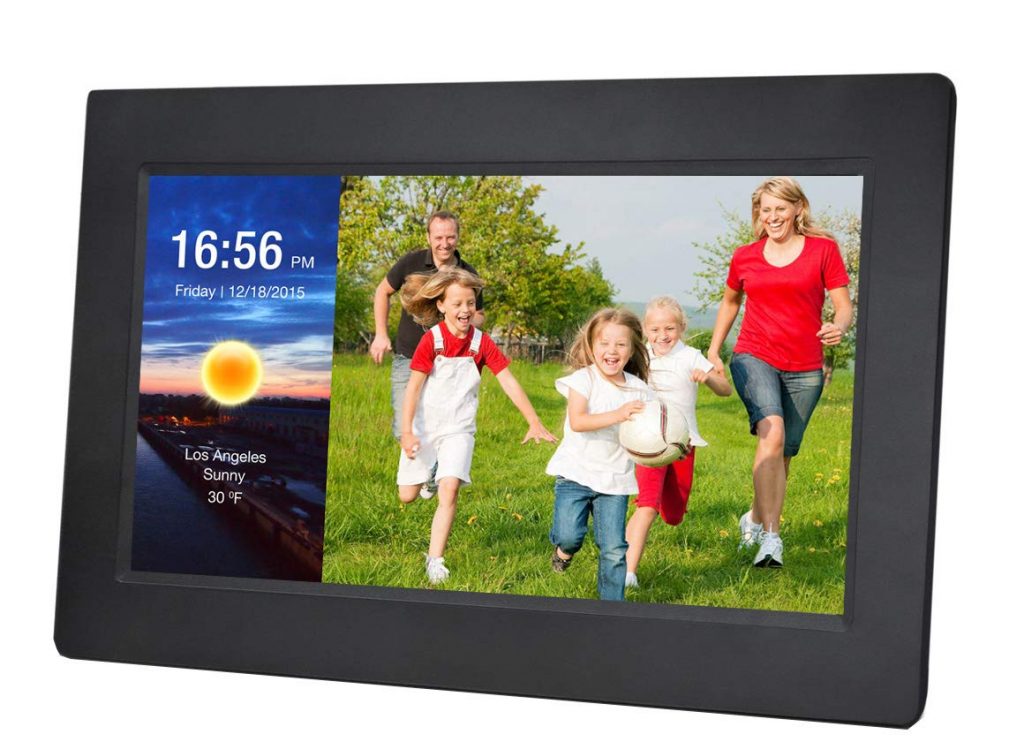 To see our lineup of Cloud Frames, check out the Estore Catalog.
So what IS the best digital frame for me?
With the information given above, you should be well prepared to choose the right digital photo frame for yourself and your loved ones. What feature matters the most to you? We recommend for first time buyers:
1. An HD Screen to show off pictures in beautiful clarity.
2. A 10 inch screen to start off because it can go anywhere
(Tables, bed stands, walls, etc)
3. An IPS Panel so your memories look beautiful from all angles and have the most accurate colors possible.
4. Cloud Storage so you never have to delete your precious memories.
5. Touch screen operation because it's easy and intuitive.
6. WiFi and Cloud Connectivity so that a single person can easily manage multiple picture frames or multiple people can contribute to a single picture frame.
Finally, here is our recommended Digital Picture Frame, the new 10″ Sungale IPS Cloud Photo Frame [CPF1051+]. It has higher resolution than the previous 10" model (1280×800 compared to 1024×600) , the newest Cloud solutions, and we believe it will be the perfect gift for anyone.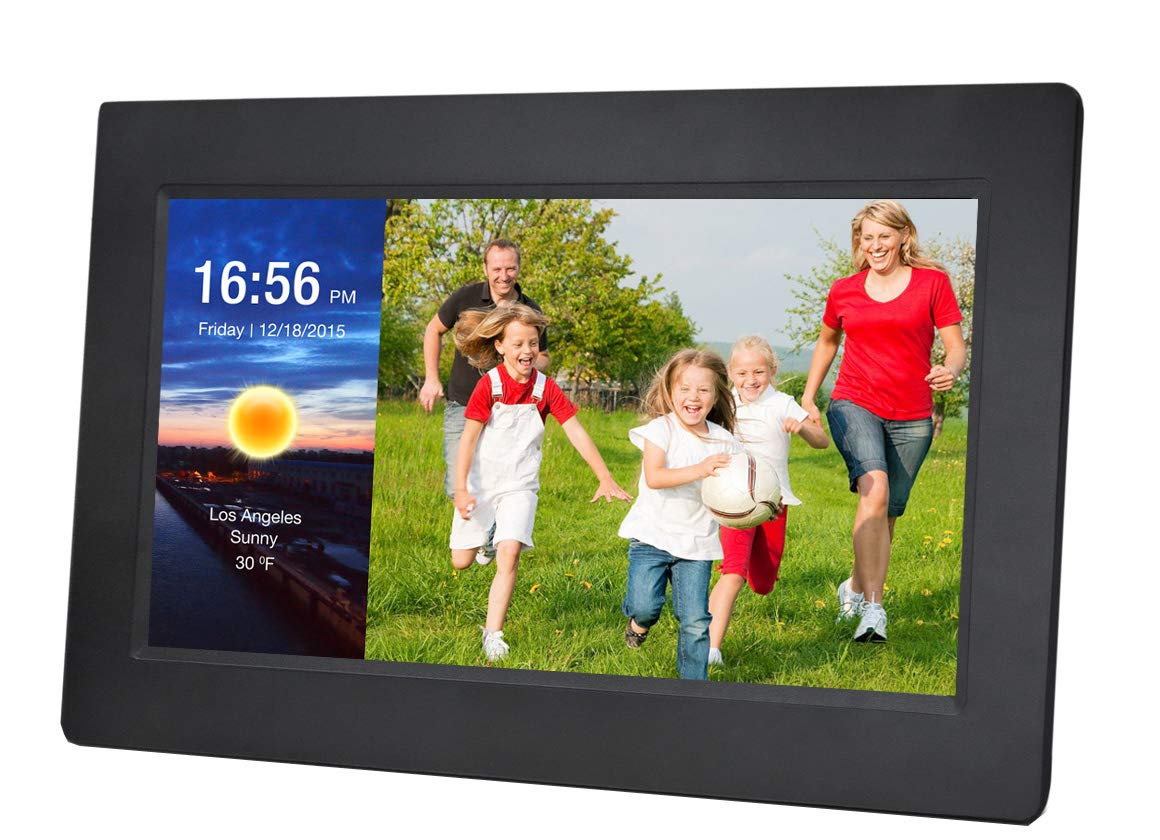 10" Sungale Cloud Photo Frame [CPF1051+]
Please follow and like us: