FOR IMMEDIATE RELEASE:
Sungale redefines the Digital Photo Frame with its new Cloud Frame model – CPF1051+
CHINO, CA (October 17th, 2019) – Sungale, the consumer electronics manufacturer, best known for being a pioneer of the digital photo frame, continues to make innovations in the market. In 2015, it launched its line of Cloud Frames ranging in size from 7 inch up to 19 inches, offering users the ability to share photos to their frame from anywhere and providing free Cloud Storage. Continuing on trend with cloud innovation with the digital photo frame, today Sungale is introducing a new 10" model, the CPF1051+, bringing new features and specs to the category that consumers have been wanting.
The Sungale series of Cloud Frames have been making improvements throughout the years to make the user experience with the devices a more pleasurable and easy experience. Sungale saw that there was a need to have better portability on a unit, and therefore is introducing the CPF1051+ with a built-in battery. This simple addition will give users photo enjoyment up to 4 hours on a single charge and the carefree feeling of enjoying photos anywhere in the home, or on the go. "I travel frequently to foreign countries, so I wanted a way to bring a bit of home with me. It's not a great experience flipping through photos and videos on my smartphone, so this was a logical upgrade to make." said Julia Sun, COO of Sungale. The digital photo frame is not tied to the wall anywhere, and Sungale is excited to offer consumers more freedom to enjoy photos the way they want.
In addition to the included built-in battery, Sungale has also improved the hardware specs compared to other models, giving users a superior experience on the CPF1051+. It comes with a 10 inch HD 1280×800 IPS Touchscreen providing a sharper picture, accurate colors from all angles, and makes operating the Cloud Frame more intuitive.
"Sungale has always been committed to providing the best experience of viewing photos and videos affordably on a digital photo frame. When we were designing our new models, that meant getting the best technical specs available that would both please our customers who want a good price as well as those looking for superior performance and a High-Resolution Display," Ningjun Sun, CEO of Sungale explained. It also features increased memory with 1 GB of RAM and 16 GB of internal storage giving increased performance and usability.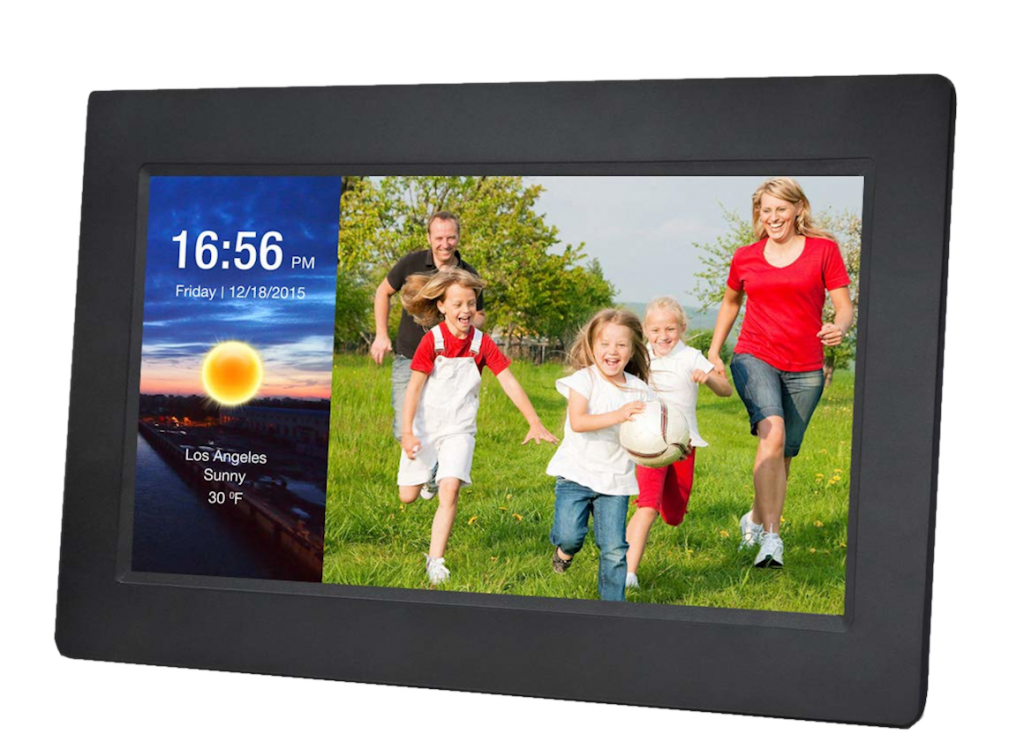 With the introduction of this new model, hardware improvements are not the only changes being made. A new firmware update has also been released for all models giving software improvements as well. Users now have the option of registering their product and using the cloud features on the device itself rather than using a PC or smart phone as in the past. If they choose not to, they can still use it as a normal Photo Frame and take advantage of the full multimedia entertainment experience with APPs like NetFlix, Youtube and Spotify."Simplicity is key." stated Antonio Abbondanza, Sungale's Sales Manager. "We want consumers to take full advantage of all the benefits each of our products have to offer, while making sure set up and ease of use is strongly considered. A product can offer hundreds of features and functions, but if operation is too complicated, it will not matter." In addition to the registration convenience, the new firmware also has improved the photo slideshows by adding a "random" feature and a "zooming" effect during the slideshow giving a more beautiful and enjoyable experience when displaying photos from both the cloud and local storage.
The CPF1051+ is now available through a variety of online retail stores for an affordable starting MSRP of $179.99. It includes 2 USB cables for an easy connection to a PC, or external storage and comes in four different colors including White, Black and by special order of Brown or Wood.
About Sungale:
Sungale has over a decade of being a premier manufacture of consumer electronics with production facilities in Shenzhen, China and as a leading OEM supplier of digital photo frames and other digital products. Sungale's devotion to cutting-edge technology along with a regulated quality control system produces a superior product line with durability and applicability in mind. Recent and future additions to Sungale's product lines include: Smart TV Box, Android Tablets, Digital Kitchen Series, Home Security and Surveillance Systems and Digital Signage.
Media Contact:
Brandon Jacobson 
Sungale 
Brandon@sungale.com
909-902-1807 ext. 115
Websites:
###
Please follow and like us: